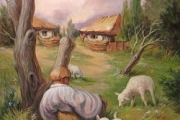 Stories, tales all about them tell not only ancient village grandmother, but, shyly smiling, well-educated urban dwellers. Yes, and how to tell if such stories happen that way, as the intervention of supernatural beings cannot be explained. They live in our world they live in Your home, it is almost like people....take a Look, and maybe You'll catch a glimpse, as right now You look attentively Your House.
And you know why? Because right now, at the end of January, come Winter Cutesy, just such a time, what Your house is sure to appease that all year behaved as a good neighbor, not snarky there may be!
Northern tale of a House
I want to tell You that in our Northern lands talk about this being a resident of the subtle world.
In the Silence of the endless forest
And oak forests Magical, Wondrous
Visible Light Rus Wonderful
Fairy tales and legends of the Ancient.
Know that he, together with other creatures of the same breed of "Small Gods".
As Babai, night spirit, is to keep people in homes that are not met they accidentally with Navami released from the Afterlife and wandering at night, and Belon in the form of a random counter displays stray from the forest.
Brodnicy - beautiful damsels, living in a dark quiet backwaters, guarding against accident and Sandman, in the image of the dear old ladies reminiscent sweet dreams - too little Gods.
Lukovica, little spirit forests in clothes from the grass, secretly helping people during haymaking - and of course, the present character of the holiday House.
They are with us
Though not see a House just so, but heard almost always it happened to You in the still of the night to hear that opened somewhere in the house door, someone passed, something rattle, even someone said something? And not like anyone thought...but as it was close.....so clearly...
The common people, miraculously saved the link of times and a fine sense of the world, to Domofonu respect and fear something to offend him, and even reluctant to say his name without intent. In conversations call him "Grandfather", " Master, Limited or Ourselves." The economy of each, in their opinion, is under the influence of a House.
Why are they here?
Try to understand. There is an old tale about the fact that the ancient heroes, went down to Reality and settled between people who have escaped into the forest became devils, who is in the water - water, who in the field - field, and who is in the house - house. Light Gods come down to the Reality of the Rules, the Black Gods of the Navi, from the same pulled out the misfits evil mad Navier. Interaction of White and Black of the Gods is the eternal interaction, perpetual motion, having some sense, slipping away even from the inquisitive human mind. In this arena, in the maelstrom of unimaginable energy, meanings, purposes, people live. To help them are little Gods.
They like us
Small Gods are not as magnificent and powerful as Bright, they are not strong to cope with Nauu as Black Gods, they are not allowed in Other Worlds, by the way - You won't meet any tales about how the House or Goblin got the Bright Iry, or NAV, and no one heard about the relationship of Small Gods and Great.
But how are they similar to people!
Everyone is talking about a House that he likes to appear in the form of a man, something similar to the master of the house. And his character was not "acceptable" - and not evil he, and not quite and kind, and according to the circumstances. And he is bound to his neighbors, to the people, but hate can.
Hosting loves, said the house - its. With cats, messengers of the Gods, by his steep - dislikes what, so that falls out of the house to go have a slight unpleasantness. Will not go away in time - and misery what can happen.
They are given to us to help
People also trying to build relationships. To teach, to warn, to take care. Knock warns, fear drives away from danger, soft soothing foot.
Not always, just as people
So in the Northern tale "As the maid vanished" from the book "Gods and Men" , was not saved brownie girl, can't stop, she ran away at night from the house.
- So then began to consider - Bean dragged, even discussions went that couple together. The geese began to appear, married, then put the took in NAV dragged, and there was agenesis. On that gradually calmed down.
Cried " he cried, but his life takes.
However, this tale is very unexpected end.
The correct behavior
So, this House. Homemade Spirit, Sosedko, which is so easy to get along
- just know that the world around us is not so unambiguous and material, as we were taught in school;
many ancient Slavic people knew and kept some ancient secrets and made them into a were - tales;
what is the history of these is the essence of knowledge about this world, in which there is a place for miracles and assistance from, but we need also to behave correctly.
And You treat her House on 28 January, will celebrate the Winter Cutesy?
- Grandpa-suceuse!
Eat porridge, Yes hut keep our!
- The master-father, receive our porridge!
And eat pies - take care of our house!
Good,
Ivanova Irina, chief editor of the "North Tales"

Com-Eva: 0
You are reading news На Вас внимательно смотрит Ваш Домовый if You liked the article На Вас внимательно смотрит Ваш Домовый, prokomentiruet her.
| | |
| --- | --- |
| an html link to the article | |
| BB-link to the article | |
| Direct link to the publication | |