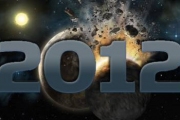 The hype about the next date of the end of the world humanity has suffered for many times. In religion the end of the world is clearly defined and not to be questioned category. Ierodiakon Peter grammarians along with famous West, lecturer and expert on religious issues of the temple community of the city of Plovdiv explained the significance of the end of the world from a religious point of view
In fact, past, present and future of a person is the most burning question for all time. We should not notice euphoria and even hysteria, which are created around the date December 21, 2012, allegedly, the end of the world. As said St. Gregory the Theologian, by their silence, we commit treason before God: it is impossible not to speak about the main thing - the salvation of man.
In the Holy Bible also describes the end of the world - the Apocalypse and the second coming of Christ, when mankind will be offered a rather different return plan in Paradise lost. Scripture also tells about the biggest disaster in human history. And this is not a war, not a natural disaster or industrial accident. It is the care of a man from his Creator, the separation from God that has a huge impact on destiny and each of us separately, and mankind in General.
More than two thousand years ago, the apostles asked his teacher, when will be the end of the world, and what is the sign we get about Your second coming? The Evangelist Matthew asks this question in 24 Chapter 3 verse. What they and all of us came the reply of Christ: you are not supposed to know the times or years, which in the power of the Lord.
The exact date of the end of the world, of course, we can't know, and not our task to find it. It will come in an hour, like a thief in the night, and just need to be ready all the previous life, good deeds to meet new worthy fate in another life, in another world.
Her we will receive in the inheritance after the end of time. So the excitement now completely unnecessary and unfounded. Many prophets were from ancient Babylon and Greece until the fashion designer Pierre Cardin, who, along with many tried to predict different zloschastye the world. So far none of the prophets was right.
Irina Tsyplakov

Com-Eva: 0
You are reading news Конец света придет в неизвестный час if You liked the article Конец света придет в неизвестный час, prokomentiruet her.
| | |
| --- | --- |
| an html link to the article | |
| BB-link to the article | |
| Direct link to the publication | |