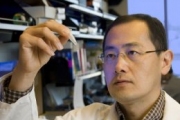 The team of scientists titled finally brought resistant cells that are able to fight tumors.
Japanese scientists for the first time synthesized cells, capable of destroying cancer.
This was reported on the website of the Center for Allergy and immunology (RIKEN). Researchers say they have created cells are reprogrammed T-lymphocytes, natural "killers" tumor cells.
T-lymphocytes are produced by the immune system - the truth, in quantities sufficient to cure cancer.
To solve this problem, scientists are still in the middle of 2012 brought "induced pluripotent stem cells" (iPS cells), for which their Creator a Signa Yamanaka received the Nobel prize.
It is from these iPS cells, scientists were able to obtain a stable T-lymphocytes.
Previous attempts to get these cells in a laboratory were failures - cells too quickly died, not having time to attack the cancer.
"We managed to get iPS cells from lymphocytes-killers, and then take of them again fully functional T cells" - said Dr. Kawamoto, one of the study participants.
The next step is to check whether attack these cells, other cells, in addition to cancer.
Groundbreaking research published in the journal Cell Stem Cell.

Com-Eva: 0
You are reading news Японские ученые впервые синтезировали клетки, способные уничтожать рак if You liked the article Японские ученые впервые синтезировали клетки, способные уничтожать рак, prokomentiruet her.
| | |
| --- | --- |
| an html link to the article | |
| BB-link to the article | |
| Direct link to the publication | |