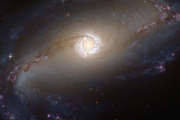 The space telescope NASA Hubble recorded a spectacular image of the bright star forming a ring that surrounds the "heart" of the spiral galaxy NGC 1097.
The galaxy, located 45 million light-years from Earth in the southern constellation Oven, provides a particularly interesting to astronomers as NGC 1097 is a Seyfert galaxy. Hidden in the heart of the galaxy's supermassive black hole has a mass of 100 million times the mass of our Sun and gradually sucks matter of stars. As a result, the area around the "black hole" lights powerful radiation.
Formed a ring of matter is bright due to radiation from clouds of ionized hydrogen, and reaches about 5,000 light-years across, although spiral arm of the galaxy stretches for tens of thousands of light years beyond.
However, the most spectacular in NGC 1097 is that it not only wanders in space. She has two small satellites, which "dance" around it.
Satellite galaxies, NGC 1097A (elliptical galaxy in orbit 42.000 light years from the center of NGC 1097) and a small galaxy-dwarf NGC 1097B. Astronomers believe that NGC 1097 and NGC 1097A may have been part of a single galaxy in the past.

Com-Eva: 0
You are reading news «Хаббл» зафиксировал «танец» звезд if You liked the article «Хаббл» зафиксировал «танец» звезд, prokomentiruet her.
| | |
| --- | --- |
| an html link to the article | |
| BB-link to the article | |
| Direct link to the publication | |