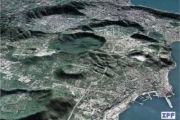 For several weeks land on the so-called Phlegraean fields near Naples, where there is the Volcano rises stronger than before. Indicates whether this for the next eruption?
Experts still leave the question open. In summer, an international team of scientists has started drilling for exploration of the volcano. The researchers reached a depth of 500 m
Recently, the civil defense Italy has increased the degree of hazard. Now the land rises by about 3 cm per month. Scientists fear that under the Phlegrean fields filled magmatic camera which is presumably connected with the camera under Vesuvius. If the pressure may increase the risk of eruption.
Since the 1960's land greatly raised already two times, however, until the eruption of it never came. In the early 1970-ies of the earth for three years rose to 1,50 m, which many of the houses there were cracks. Then the movement has been significantly weakened. However, about three months ago it again increased.
The eruption may have serious consequences for the densely populated region and the whole Europe. In addition, it can affect the climate in the world. Scientists cannot make any forecasts, as a strong eruption supervolcanoes occurs rarely and experimental data are not available.
Scientists plan a long term monitoring of volcanic activity and want to get more precise information about what happened earlier in the volcano. Then, probably, they will be able to tell more.

Com-Eva: 0
You are reading news В Италии может начаться извержение Супервулкана. На Флегрейских полях поднимается земля if You liked the article В Италии может начаться извержение Супервулкана. На Флегрейских полях поднимается земля, prokomentiruet her.
| | |
| --- | --- |
| an html link to the article | |
| BB-link to the article | |
| Direct link to the publication | |