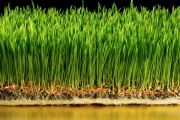 Copper and zinc is an important micronutrient content in organic and conventional food unknown. As unknown, and the forms in which these elements enter the body in both cases. Employees of University of Denmark decided to compare the utility of "organic" and "simple" diet with 20 volunteers that were at their disposal for 12 days. While scientists tracked the level of absorption of zinc and copper, analyzing samples of stool test in the last four days of research.
The result was an unequivocal conclusion was made that between the two types of diets, there is no difference in terms of content and absorption of zinc and copper. Scientists sincerely hope that their results will be important in the heated debate about extreme usefulness of "organic" food. The data obtained indicate only that the "organic" food is not possess any advantages concerning utility; this was shown by the example of two randomly selected items (taste - that is another matter, but here the question was not raised).
Should, however, be noted that for health benefits, it is "organic" food is studied long and intensively. Whatever the results of the Danish research, as it is well known that different farming technology, as well as fertilizers can affect not only the quantity contained in plants of minerals, but also the form in which they are located, which ultimately can affect the bioavailability of minerals for a person in the process of digestion. However, what happens after taking such products as food, remains unknown.
Details of the study are presented in the article, published in the journal Food & Function.
Prepared based on materials Chemistry World.

Com-Eva: 0
You are reading news Правда ли, что «органическая еда» богаче витаминами? if You liked the article Правда ли, что «органическая еда» богаче витаминами?, prokomentiruet her.
| | |
| --- | --- |
| an html link to the article | |
| BB-link to the article | |
| Direct link to the publication | |