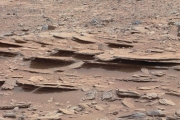 American chemical laboratory continues to surf the surface of Mars and to do new research.
Region, shot on camera, the Rover, covers about 90 centimeters.
Our active American Mars Rover "Curiosity", which was launched by the American space Agency NASA on November 26, 2011, recently arrived in new Martian place called "Yellowknife Bay", but before that he managed to make an interesting picture rock informally named "Shaler". To do this, the Rover used its mast camera (Mastcam) within 120 on the Martian-day mission.
Amazing layers mountain outcrops, which are located at an angle to each other, made this object is one of the objects of study of the Rover "Curiosity".
The scientific team "Curiosity" reminds that the area and rock outcrop located near the countryside, where there are three different types of landscape. We are talking about the area Glenelg in the Gale crater.
Color of the image have been slightly modified in order to show what it will be like a rock, if she was not on Mars and on Earth.
Scientists mission "Curiosity"informs that starting from the moment of landing on the surface of Mars 5-6 August 2012, the Rover "Curiosity" has passed 539 meters over the surface of the red Planet.
After a detailed study of the Martian terrain "Yellowknife Bay, in which the Rover is now, he will move to its primary destination mount Sharpe. But at this stage, chemical laboratory on six wheels a little slowed down, because it was not easy to go on mountainous with numerous outcrops of rocks.

Com-Eva: 0
You are reading news «Курьозити» прошел 539 метров по Марсу if You liked the article «Курьозити» прошел 539 метров по Марсу, prokomentiruet her.
| | |
| --- | --- |
| an html link to the article | |
| BB-link to the article | |
| Direct link to the publication | |