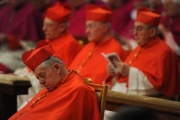 Chief astronomer Catholic Church does not consider on December 21, the last day of mankind. Cardinali, Vatican AFP Catholics do not expect концf light on December 21, the Head of the Vatican Observatory and scientific adviser to the Pope refutes rumors about the approaching end of the world.
45-year-old father Jose Funes ensures that in the next few days the world will not end. Such information, he outlined on pages of the official printed organ of the Holy see - the newspaper L''osservatore Romano. According to the priest-scientist, doomsday scenarios December 21 "should not even be discussed". Objective data on the approximation of the large-scale catastrophe, he said, does not exist. Funes has confirmed that the universe is slowly expanding, but the destruction of the planet Earth, if it ever happens, is not expected within the next billion years. And, he said, Christians deeply believe that "death will never conquer life".
A few years ago Funes said that the study of extraterrestrial life forms, is for the Catholic Church reasonable and included in the scope of her scientific interests. "Despite the fact that astrobiology is a new science, the question of the origin of life in the universe beyond Earth are quite natural and deserve serious study" - he said. "There is a sense to find out whether there are other forms of life beyond Earth, however, evidence of the existence of such life so far not found" - said Funes. However Vatican astronomer admits the possibility of the existence of aliens and even ready to consider them of God's creation.
"Just as many different creatures living on Earth, may well be other intelligent beings, created by God. This does not contradict our faith, because we cannot doubt that the creative possibilities of the infinite God is the freedom it has no boundaries. If, like St. Francis, to treat all earthly creatures as his brothers and sisters , why we can't be brothers on another planet?", he explained.

Com-Eva: 0
You are reading news Ватикан отрицает скорый конец света и ищет в космосе инопланетян if You liked the article Ватикан отрицает скорый конец света и ищет в космосе инопланетян, prokomentiruet her.
| | |
| --- | --- |
| an html link to the article | |
| BB-link to the article | |
| Direct link to the publication | |