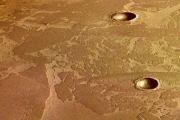 Russian Academy of Sciences will hold a major international conference in October 2013, to mark its 50th anniversary, as stated by the Director of the Institute Igor Ushakov.
The conference will bring together scientists from 23 countries. The conference will cover medical-biological problems of long manned flights to the ISS and future interplanetary missions. Also will be summed up the results of the project "Mars-500".
Federation of Astronautics prize was established, dedicated to the anniversary of the Institute. This medal named Oleg G. Gazenko, who was Director of the Institute from 1969 to 1988. According to Ushakov, this public award, but it will be as important for physicians and biologists, as Sergey Korolev medal for engineers.
Repair and construction of a new laboratory building will start at the Institute in 2013.
"We are glad that our dreams finally come true and we will have a new laboratory building", - said Ushakov.

Com-Eva: 1
You are reading news Международная конференция в Москве рассмотрит будущий полет на Марс if You liked the article Международная конференция в Москве рассмотрит будущий полет на Марс, prokomentiruet her.
| | |
| --- | --- |
| an html link to the article | |
| BB-link to the article | |
| Direct link to the publication | |