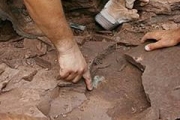 Israeli archaeologists have found a treasure of gold coins which, as they suppose, seven and a half centuries ago hid crusaders before the fall of their castle under the onslaught of the armies of the Muslims, the newspaper said "Haaretz". Researchers medieval ruins removed from the cache 108 gold dinars Egyptian chasing weighing 400 grams.
Their estimated cost - more than 100 thousand dollars. Treasure Dating back to the middle of XIII century, was hidden in the broken clay pot covered with sand and covered the floor slabs. "All this was done deliberately, but in a big hurry right before the fall of the castle. Together with other findings treasure tells us the story of a protracted siege and fierce battle" - said the head of excavations Professor of tel Aviv University Oren tal. During excavations of the castle, which is located on the territory of the national Park of Apollonia-Arsuf next to the modern Israeli city of Herzliya, archeologists found hundreds of tips of arrows and stones for the catapults. Rich castle harbour, belonged to the knights Hospitaller, was in 1265 taken after a 40-day siege and destroyed by the Mamluk Sultan Baybars.

Com-Eva: 0
You are reading news В Израиле найден клад крестоносцев if You liked the article В Израиле найден клад крестоносцев, prokomentiruet her.
| | |
| --- | --- |
| an html link to the article | |
| BB-link to the article | |
| Direct link to the publication | |