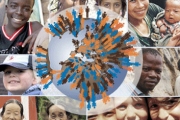 The number of the inhabitants of the Earth are celebrating today is world population day is 7 billion to 57 million 608 thousand people.
This was reported by the official representative of the German Foundation for world population Ute Stalmeister, writes ITAR-TASS.
According to her, the growth engine of the world's population are developing countries". So, in Africa the number of people in this century will increase to 3.5 billion people. The largest increase residents of the continent is observed in the South of the Sahara, where, on average, every woman gives birth to five children.
The official representative of the Fund drew attention to the aggravation of the problems associated with population growth. "Despite the fact that many African countries have made progress in the fight against hunger, the proportion of hungry people in the developing countries remained at the level of 16%", - stated the expert. "These governments are not able to feed a growing population," she said.
Problem is the shortage of water, which today is a cause of many conflicts and the warrior," said Ute Stallmeister.
In General each year, the population increases by about 80 million people. "This is almost the same as now lives in Germany," said Ute Stallmeister.
The world day of population was established by the UN in 1989.

Com-Eva: 0
You are reading news Обнародована численность населения Земли if You liked the article Обнародована численность населения Земли, prokomentiruet her.
| | |
| --- | --- |
| an html link to the article | |
| BB-link to the article | |
| Direct link to the publication | |