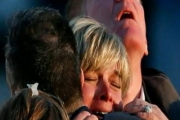 In the American state of Michigan Christmas school holidays started ahead of time because of fears of occurrence of "end of the world". According to local media, December 20 for this reason, classes not send thousands of children.
According to local authorities, "circulating rumors about the end of the world distract students and disrupt the educational process". In this regard, it was decided to close the school no 24 December, and a few days earlier.
On December 21, 2012 have the end of one cycle of the Mayan calendar. Many people around the world think that Maya thus predicted "end of the world".
Meanwhile, fears of a coming Apocalypse was not the only reason for the cancellation of the class in American schools. The decision to extend the vacation was also connected with the tragedy in the town of Newtown, CT), where last week, the 20-year-old Adam of Lanza killed 26 people, including 20 children.
After the tragedy in Connecticut in American schools began to receive reports from people claiming that they allegedly saw armed citizens near educational institutions. "This tragedy has changed us all. In our opinion, the cancellation of classes now is the right solution" - said in the joint statement of the heads of several schools Michigan.
According to ITAR-TASS, some U.S. residents seriously accepted the information about the imminent "end of the world" and thoroughly to it prepared. Some families intend to go into a specially prepared underground bunkers with monthly supplies of food and water.

Com-Eva: 0
You are reading news В Америке закрыты школы из-за опасений наступления "конца света" if You liked the article В Америке закрыты школы из-за опасений наступления "конца света", prokomentiruet her.
| | |
| --- | --- |
| an html link to the article | |
| BB-link to the article | |
| Direct link to the publication | |