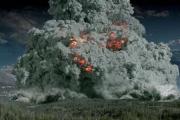 Scientists believe that even if the end of the world and will happen, it will, at least not this Friday, and if the Mayan prophecy about the end of the world is true, then scientists have presented the list of what can happen, reports novostiua.net.
Dark comet, hunger, the explosion of a super volcano, catastrophic climate change and plague are just some of the possible scenarios that could fulfill the prophecy. And although they would all be just the beginning of a process that can erase humanity from the face of the Earth, the result would be the same.
Scientists have considered until two versions. Astrophysicist Professor Jocelyn bell Burnell who discovered pulsars, believes that, most likely, distress can be caused by black comet. Such an end will coincide with the end of the era of the dinosaurs after their habitat on the planet about 165 million years were killed and 10-kilometer asteroid or comet that slammed into the planet.
Dark comet have little snow and ice, unlike most of the comets and much more dust, which makes their detection more difficult. Huge amount of dust will bring upon the earth eternal winter", which will lead to famine.
In the case of a super volcano hundreds of cubic kilometers of debris will be emitted to the atmosphere. More than 240 cubic kilometers of molten rock and debris will be ejected in the explosion of a super volcano. Most of it will remain in the atmosphere in the form of volcanic dust, which is the same as in the case of a massive asteroid or comet blocks the rays of the Sun and will cause hunger.

Com-Eva: 0
You are reading news Если пророчество майя — правда, что же может случиться в пятницу? if You liked the article Если пророчество майя — правда, что же может случиться в пятницу?, prokomentiruet her.
| | |
| --- | --- |
| an html link to the article | |
| BB-link to the article | |
| Direct link to the publication | |