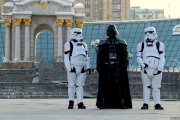 Scheduled for tomorrow, the end of the world is cancelled. This was stated today on the capital's Maidan Nezalezhnosti Darth Vader during the campaign "save Ukraine".
But all those who still naively believe in the Mayan prophecy Commander of the Imperial army is ready to "lend a hand" and "cover his black cloak". Darth Vader invited all who are afraid not to worry tomorrow pereedet him on the space station "death Star". Pass on the spaceship will serve as emergency passes, which are distributed to everyone.
Volunteers Darth Vader distributed to passers-by "Soldering life", which include the electric lamps, salt, soap, matches, condoms, disks with Linux and toilet paper.
But ungrateful Ukrainians threw Commander during the action eggs.

Com-Eva: 0
You are reading news Главнокомандующий имперской армии Дарт Вейдер отменил конец света if You liked the article Главнокомандующий имперской армии Дарт Вейдер отменил конец света, prokomentiruet her.
| | |
| --- | --- |
| an html link to the article | |
| BB-link to the article | |
| Direct link to the publication | |