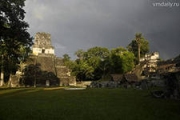 Of these ceremonies, sacred places of Mayan marked the beginning of the meeting on 21 December in Guatemala. Many consider it the day of the so-called end of the world.
According to Alberto Marroquin, Secretary of the Grand Council of the authorities of the ancient peoples of the Maya, Garifuna and Xinca who live in Guatemala, this day marks a new dawn for the Mayan culture. Cleansing affect 20 sacred places in the country.
The priests called for a universal meditation, reports FirstNews. The only way, according to them, you can save mother earth and reach the brotherhood between living on Earth.
Let's add, the administration of Guatemala believes that the celebration of the end of the cycle of the Mayan calendar and the beginning of a new era in the country will come to not less than 200 thousand tourists. Already a few weeks before the "fatal" date December 21, finding place to sleep in the regions adjacent to the archeological zones, was almost impossible.
According to the Mayan calendar, on December 21, 2012 will mark the end of a long cycle that began in about 3 thousand years BC. On this date in the calendar ends that has given many people a reason to believe, though the Indians thus foretold the end of the world. The majority of scientists to declare that any part of the world in the predictions of speech did not go. However, the idea of "end of the world" caused in the world such a great response that all countries in one way or another connected with the Mayan civilization, could not miss the chance to direct this subject on the promotion of local culture and tourism.
In Guatemala, the celebrations will start on Thursday, December 20, at 18:00 local time in 13 archaeological zones, including in Tikal on the North countries. Guatemalan television will broadcast live on many countries of the world, from Brazil to China.
According to the predictions of the Maya and the monks of Shambhala, December 21, should come to an end. This is the second Apocalypse that "planned" for 2012 (the first was expected on September 22).

Com-Eva: 0
You are reading news Шаманы майя начали встречать "конец света" if You liked the article Шаманы майя начали встречать "конец света", prokomentiruet her.
| | |
| --- | --- |
| an html link to the article | |
| BB-link to the article | |
| Direct link to the publication | |