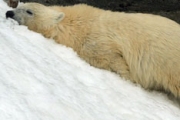 2013 will be the warmest for all history of meteorological observations
Suffering from heat bear in the Moscow zoo. Archive photo ITAR-TASS
Next year will be warmer than the present, and the temperature on the planet by 0.57 C will exceed the long-term global average, which equals 14 degrees. Such forecast was made by the specialists of the British weather Bureau. They said that the amplitude of the forecast ranges from 0.43 to 0,71 degrees. According to meteorologists, 2013 is likely the warmest for all history of modern observations, which are conducted since 1850.
In the forecast took into account the information of the three global databases that are used by the world meteorological organization. These include the weather Bureau in the UK, the University of East Anglia, the U.S. National oceanic and atmospheric and base of NASA.
In the summary table indicates that 2012 was in the top ten warmest - on the ninth place. The average annual temperature in this year was above the average of 0.48 degrees. The warmest in the history of observations are 2005 and 2010, when the excess was 0,54 degrees. Also in the top five went in 1998 (0.51 C), 2004 and 2007 (0.49 C).
In late November, the experts of the world Bank presented a forecast that by the beginning of the next century the average temperature will rise by four degrees Celsius. This will lead to irreversible consequences in the form of lower world food supply, destruction of ecosystems and biodiversity and to increase the level of the World ocean. Major problems will occur in the poorest regions of the planet, and "efforts to achieve global goals of humanity will be undermined".
Arkady AZAI

Com-Eva: 0
You are reading news Синоптики обещают самый теплый год в истории if You liked the article Синоптики обещают самый теплый год в истории, prokomentiruet her.
| | |
| --- | --- |
| an html link to the article | |
| BB-link to the article | |
| Direct link to the publication | |