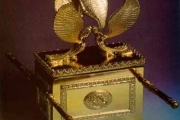 In the new issue DiscloseTruthTV tells about the search Professor Tudor Parfitt. Mr. Parfitt has published a new book - "the Lost Ark of the Covenant", in which he describes his quest to restore the history of 2500 years of biblical artifact where he stored the stone Tablets with the Ten commandments.
Parfitt presented a short history of the ark of the Covenant, indicating that it may differ in appearance from the description presented in the Bible. He also spoke about the work of all his life tracking lost tribes of Israel in Africa and Asia. The journey Parfitt, ultimately led him to Zimbabwe and LEMP, tribe, which claims to be Jewish. It arrived from Israel to their present homeland in Africa for centuries, if not millennia ago.
According to research Parfitt, LEMP brought the wooden barabane-like object from Israel, which was uncannily similar to the ark of the Covenant. The "ark" LEMP were rings on every corner. He was moved to the poles, covered with skins, and contained the sacred objects, said Parfitt. The artifact was associated with noise, explosions and fire, explained Parfitt, noting that the object is guaranteed victory in the war for those who possessed them.
About kovchega-like object cared clan priests LEMP, Buba. This genus, clarifies Parfitt, is the same genetic "haplotype", as those who today claim that they are relevant to the temple priests of ancient Israel. Radiocarbon analysis has determined the date of the Ark LEMP - about 1300 A.D. Parfitt believes their original ark was destroyed. The remains of a newer version are in the Museum in Harare, Zimbabwe, said the scientist.
Most of my life Tudor Parfitt dedicated to tracking the lost tribes of Israel in Africa and Asia. As Professor of Jewish studies at the prestigious London School of Oriental and African studies (School of Oriental and African Studies) and a research fellow of the Oxford Centre for Hebrew and Jewish studies, he wrote many works on the history of Jews in Africa and Asia. In 2006 he was appointed a distinguished visiting fellow at Harvard University. He traveled extensively in remote areas of Africa and Asia, divides his time between London and "a country Templar" - South Aveyron.

Com-Eva: 0
You are reading news Артефакт вынесло из Израиля древнее племя Лемба if You liked the article Артефакт вынесло из Израиля древнее племя Лемба, prokomentiruet her.
| | |
| --- | --- |
| an html link to the article | |
| BB-link to the article | |
| Direct link to the publication | |