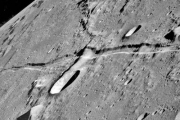 Space probe called the Lunar Reconnaissance Orbiter transferred unique pictures of the lunar surface to Earth. These pictures show 2 huge holes with a completely smooth edges.
According to calculations of scientists, one with depth of 80 metres and a diameter of 65 meters. However, there is a possibility that this hole smoothly into the tunnel width 370 meters. In such opening will accommodate a building the size of the American White house. The second cavity, found on the moon, has appeared in 2 times more, than the first. Both of these holes are located at the site of the lunar surface with a small volcanic activity.
Ufologists believe that this is an orphanage that aliens built for myself, but scientists are more pragmatic and think that these holes - a natural education. For example, they could be formed after the fall of the meteorite, ejection of volcanic lava or lunar earthquake.
It should be noted that in such holes can, for example, to put a base on the moon. As a result, it will be protected from extremes of temperature and radiation.

Com-Eva: 0
You are reading news Найдены загадочные отверстия на луне if You liked the article Найдены загадочные отверстия на луне, prokomentiruet her.
| | |
| --- | --- |
| an html link to the article | |
| BB-link to the article | |
| Direct link to the publication | |