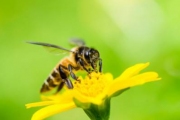 "We are facing extinction of species." This conclusion was made by commercial beekeepers who gathered for an annual meeting of the American Association of manufacturers of honey (AHPA), writes PAN North America. Loss of bees in recent years have been dramatic, speak in one voice participants in commercial beekeeping no future, if all will remain unchanged.
The beekeepers in the United States gathered in San Diego, to exchange experience and to learn more about the latest scientific research related with the death of a population of bees. Independent science continues to point to pesticides, as one of the most important co-factors bee losses - along with diet and disease.
However, in the last time significant growth in the use of pesticides for treatment of seeds and fields. Beekeepers say that during the winter time there is loss of 40% of the population throughout the country. And some manufacturers of honey - up to 70% of bee colonies died this year. So 2013 will be the worst year for bees.
The decline began in 2006, said the Association.
Last year in a number of places was not pollination cherry and melons.
Beekeepers have decided to create the national Fund for the protection of pollinators. They will be "to protect the natural pollinators, with vitally important for sustainable and affordable food" and fight with, adverse effects of pesticides".

Com-Eva: 0
You are reading news 2013 станет худшим для пчеловодов США, популяция насекомых рекордно сокращается if You liked the article 2013 станет худшим для пчеловодов США, популяция насекомых рекордно сокращается, prokomentiruet her.
| | |
| --- | --- |
| an html link to the article | |
| BB-link to the article | |
| Direct link to the publication | |