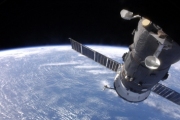 Roskosmos said that Russia is technically ready to create your own space station without attracting foreign partners.
Russia could build its own space station in case of a failure to agree on the design of the next joint station with foreign partners, informs "Interfax".
This statement was made by the head of Roscosmos Vladimir Popovkin at the international air show in Farnborough, held these days near London. Popovkin noted that now our country is technically ready to create your own station.
The problem of creating new space station now is rather acute, as the period of the ISS operation comes to an end and it is necessary to search for her replacement. Now Russia is trying to negotiate with other States operating the ISS on the construction of the new station.
Also the Agency is working to create a plug-in modules for the ISS. It is reported that they also can be used as a basic element in the construction of the new station.
According to Popovkin, now the international working group considers the terms of utilization of the ISS, and also discusses the prospects of creation instead of one large station several small ones, intended for solution of specific tasks. It is assumed that they will be located at the point of equilibrium between the moon and the Earth, or on the reverse side of the moon.
Recall now on creating its own orbital station operates China, which did not join the agreement on the ISS. If 16 countries participating in the ISS will not be able to create a new station to recycling old, China may be the only owner of a reference point in Space.

Com-Eva: 0
You are reading news Россия может создать собственную МКС на обратной стороне Луны if You liked the article Россия может создать собственную МКС на обратной стороне Луны, prokomentiruet her.
| | |
| --- | --- |
| an html link to the article | |
| BB-link to the article | |
| Direct link to the publication | |