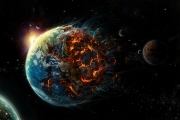 The celebration is not held to the end of the world or, at the Mayan beliefs, change of epochs, caused serious damage to several monuments of ancient architecture in the national Park Tikal (Guatemala)said technical expert Park Osvaldo Gomez.
In the night of December 21, about 6 thousand tourists climbed to the Second Temple and South of the Acropolis in Tikal, which led to the damage of steps and stones.
"We will never be able to recover them for what they were before", - quote Gomez Guatemalan media.
According to the representative of the Directorate of the Park, the local administration does not object to such celebrations, however, encourages further precautions.

Com-Eva: 0
You are reading news Туристы, отмечавшие конец света, повредили древний храм в Гватемале if You liked the article Туристы, отмечавшие конец света, повредили древний храм в Гватемале, prokomentiruet her.
| | |
| --- | --- |
| an html link to the article | |
| BB-link to the article | |
| Direct link to the publication | |