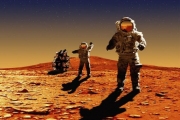 Taikonaut (so call themselves Chinese conquerors of Space) are sure that someday will be able to grow vegetables on Mars or the moon.
This was reported by the French TV channel France 24 correspondents which visited this event exhibitions in China, organized on the day. According to the organizers from the Chinese side were voiced assurance in reality this perspective, saying that such possibility "of space garden" tested in special laboratories.
Knowing the hard work and dedication of the Chinese reason not to believe them yet. It is time for Europeans to create a business with China in this direction.
According to informagenstva Xinhua, taikonaut together with scientists raised four types of vegetables. Moreover, their growth was in a special artificial ecosystem, repeating the conditions of open Space and the surface of Mars and the moon.
For garden works on another planet with aggressive atmosphere with special space "greenhouse" - artificial ecosystem occupies 300 square meters Is "grounded" space and there is the cosmic garden, which will place on Mars or the moon.
China is aiming to become the first Asian country, who conquered the Earth and is still far for astronauts to Mars. The Chinese are going to build a permanent space station, which promises to open the first space representation of the ruling Communist party of China.
According to taikonauts, in Space grows best cabbage. But to get the potatoes grow in a greenhouse on Mars yet.

Com-Eva: 0
You are reading news Китайские космонавты собираются посадить капусту на Марсе if You liked the article Китайские космонавты собираются посадить капусту на Марсе, prokomentiruet her.
| | |
| --- | --- |
| an html link to the article | |
| BB-link to the article | |
| Direct link to the publication | |