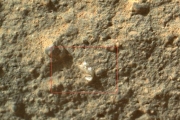 Although observers have called the find flower, NASA cannot understand what has found the Rover.
American Curiosity Rover photographed a strange object on the surface of the planet. Observers immediately dubbed it ' Mars flower", although NASA does not yet able to understand what got into the camera lens. Finding was made in the field of Mars Yellowknife Bay, where Curiosity was shooting a panorama. In one of the photos just sealed the anomaly that soon was called"the flower". Judging by the photo, crushed.
Browser NBC Alan Boyle suggested that "flower" is a piece of plastic, away from the Rover. This has happened in October last year. However, the representative of NASA guy Webster has not confirmed his hypothesis, saying that "this is like a piece of rocks, not chip spacecraft".
However, the more common comments from NASA about the weird rock formation, as well reflecting sunlight, has not yet been reported.

Com-Eva: 1
You are reading news Curiosity обнаружил и сфотографировал загадочный "марсианский цветок" if You liked the article Curiosity обнаружил и сфотографировал загадочный "марсианский цветок", prokomentiruet her.
| | |
| --- | --- |
| an html link to the article | |
| BB-link to the article | |
| Direct link to the publication | |