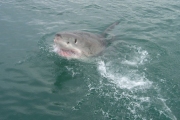 Near the coast of the Primorsky territory reported cases of occurrence of sharks.
This year, scientists have recorded two sharks size of about three meters. According to employees of the Institute of marine biology, the size of the predator indicate its dangers for man: herring species of sharks, harmless to humans, don't get that big.
According to biologists, given last year's shark attacks on humans, we can safely say that the danger swimming in the wild beaches is very high.
Recall that in 2011 in Primorsky region recorded three cases of shark attacks on humans.

Com-Eva: 0
You are reading news В Приморье возвращаются акулы if You liked the article В Приморье возвращаются акулы, prokomentiruet her.
| | |
| --- | --- |
| an html link to the article | |
| BB-link to the article | |
| Direct link to the publication | |