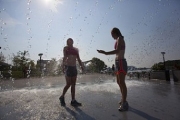 The summer heat in 30-35 degrees would be an anomaly for Ukraine twenty years ago, but now this is the norm.
Yesterday in Kiev was recorded temperature maximum this summer +35 degrees. But, according to forecasts Ukrgidromettsentra today and he will be beaten. About it today at the press conference said the Director of the Ukrainian hydrometeorological center Mykola Kulbida.
"As there is a rapid upward trend of temperature and the winter and summer period, it is clear that under such conditions there can be little hot days. There will be many, and each year more and more" - said Kulbida, quoted by the correspondent LigaBusinessInform.
Kulbida said that in the current year in the southern and Eastern regions already had 40-50 days with temperatures above 30 degrees. "Such figures in principle was not observed in Ukraine never" - he said.
When asked whether this temperature abnormal, Kulbida said that excess temperature today is 4-6 degrees. "It is certainly an anomaly when compared with climatic norm, which was calculated twenty years ago. But if you take the last twenty years, such a temperature mode in principle are the norm. We must be ready that this summer will be the norm" - he said. According to him, the climatic norm revised once in thirty years, and the next review is scheduled around the year 2020.

Com-Eva: 0
You are reading news Синоптики: Сильная жара в Украине уже не считается аномалией if You liked the article Синоптики: Сильная жара в Украине уже не считается аномалией, prokomentiruet her.
| | |
| --- | --- |
| an html link to the article | |
| BB-link to the article | |
| Direct link to the publication | |