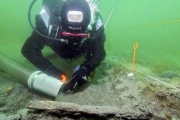 Divers-the researchers found on the bottom of the Baltic sea, Kiel most ancient ever found in Schleswig-Holstein human bones, reported the media.
Excavations in the Baltic sea in Schleswig-Holstein from the stone age. Photo: Florian Huber/Uni Kiel
Divers and students of the Institute of prehistory and early history Kiel University got bones and other archaeological finds from the 6-meter depth.
Were the bones of fish and mammals. The archeologists have also found axes, knives, and arrowheads.
Bones, among them the lower jaw with two teeth, dated 5 400 BC, said the scientist of the Institute of prehistory and early history of the University of Kiel.
Place finds were discovered last fall by divers. During excavations in June were found the bones. Scientists hope to get a DNA information from the teeth of man 7000 years ago. In addition, they plan further excavations in the future if the project receives funding.

Com-Eva: 0
You are reading news Человеческие кости 7000-летней давности найдены в Балтийском море if You liked the article Человеческие кости 7000-летней давности найдены в Балтийском море, prokomentiruet her.
| | |
| --- | --- |
| an html link to the article | |
| BB-link to the article | |
| Direct link to the publication | |