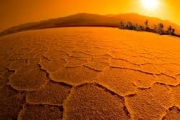 The heat, which is observed during the last two years, breaking records the last 10-15 years. In an exclusive commentary to UNN said Director of the Ukrainian hydrometeorological center Mykola Kulbida.
According to the expert, in the history of Ukraine of such anomalous climate have never seen before.
"These trends have started to emerge last 15-20 years. Of course hit record periods of high temperatures, but practically during the last 15-20 years, all these records have been surpassed in recent years," said Colibita.
He also assured that because of the change of the seasons, crops will need to sow much earlier, otherwise the current losses of grain may be repeated from year to year.
"Spring is declining, according to those trends that take place and the spring comes earlier. It's all a machine leads to the fact that spring crops definitely need to sow 10-12 days earlier than it was done before. Relatively winter, tutu, the situation is different. As long repeated autumn drought, you need to choose the periods when there is a probability of a rain, then it is possible to sow and to get good results. Because sowing in August you can get into such conditions that the grain will not be able to ascend", - said the expert.
As reported UNN, from 5 to 8 July, on the territory of Ukraine will be held high and extreme fire danger. UNN was reported in the press service of the emergencies Ministry.
From 5 to 8 July in Ukraine, in addition to most areas of the Crimea, Eastern, Sumy, Chernihiv oblasts, to prevail high (class 4) and emergency (grade 5) fire danger.
Source: Ukrainian National News

Com-Eva: 0
You are reading news Украина: Нынешняя жара побила все рекорды последних 10 лет if You liked the article Украина: Нынешняя жара побила все рекорды последних 10 лет, prokomentiruet her.
| | |
| --- | --- |
| an html link to the article | |
| BB-link to the article | |
| Direct link to the publication | |