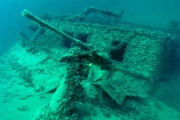 According to experts "black sea undersea research centre", one of the objects - ship "Communist" - this is the secret of the Black sea.
The ship "Communist", which sank in 1942, scientists discovered during the expedition "Coast of the gods" last summer.
- Vessel transported weapons-grade equipment surrounded Sevastopol and went missing EN route from Novorossiysk to Sevastopol, - said "KP" Director of "the black sea undersea research centre" Sergei Voronov. - We have managed to identify the type of case and the wheelhouse. It became clear that it is the legendary "Communist", you might say, the mystery of the Black sea.
Found the vessel opposite the Swallow's nest at the depth of 113 meters. According to Sergei Alexandrovich, his deck and holds are filled with military equipment, which are in principle not remained. So if you raise those tons of military weapons can be created on the basis of only one ship another lovely Museum.
However, during the first phase of the expedition "Coast of the gods" on the study of an object, scientists had little time. Therefore, to continue to explore "Communist" specialists have planned in March.
After scientists will go to the next no less interesting object: the ship Armenia".
Sanitary transport, which sank near the International children's center ' Artek" in Gurzuf, said Sergei Voronov. - The vessel went under water 7 November 1941. From 7 thousand passengers were saved only 8. Scientists left to study only two coordinates, the rest points is already studied.
The expedition will start on March 1, 2013. And the second phase "Shores of gods" scheduled after the 9th of may.

Com-Eva: 0
You are reading news Украинские ученые решили узнать тайны затонувших советских кораблей if You liked the article Украинские ученые решили узнать тайны затонувших советских кораблей, prokomentiruet her.
| | |
| --- | --- |
| an html link to the article | |
| BB-link to the article | |
| Direct link to the publication | |