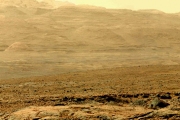 The Rover NASA Curiosity is very close to the commencement of drilling on Mars. In outer office say that Curiosity will start drilling operations this week. John grotzinger, scientific Director of the project, says that after the break for the new year holidays group Curiosity shall send the apparatus to the Martian region known as the Gulf Yellow Knife. It is expected that there will be selected first Martian rock drilling.
Now all the scientific tools of the Rover removed to a safe location, so as not to damage them during drilling rocks, but the heavy-duty drill opposite was placed in a state of readiness and is now the sole working tool Curiosity.
Drill Rover works not only with a very high speed, but also incorporates the functionality of the puncher, i.e. it can not only drilling, but also to partition the hard rock. During the test drill on Earth, it was broken into small pieces 5-centimeter stones.
Scientists say that the drill on Mars will svalivaetsya and beat the stones on the surface and a deepening and a special tool will collect the pieces and send them in the built-in Curiosity chemical laboratory, where they will be examined. Grotzinger said that now Curiosity is undergoing final preparations before drilling.
Researchers say that in fact the region for drilling was selected in December, now I only have to choose the most interesting from the point of view of science of the breed. To select them, Curiosity will use his laser rangefinder and x-ray scanner. Now researchers say that the region in which the device was, is a literally storage of different breeds.
Previously satellite phones have already conducted a preliminary study of the region and gave evidence that in the past here, most likely, was water. Now here many mineral deposits have signs of past water - calcium plaque, clay and others.
Curiosity will have to go down to the maximum of the lower layer (he is the oldest layer) and try to learn breed there. Some scholars believe that in the depths of Mars and now there is water, but it lies at a depth of 5-8 meters. To Dobritsa so deep Curiosity't, but he will be able to transmit to Earth the information about changing environment that will indicate a high probability of water.
According to experts, the region is Curiosity is the age of 3-3,5 billion years old, so by studying sediments here, you can tell a lot about the past of the red planet.

Com-Eva: 0
You are reading news Марсоход Curiosity готовится начать бурение Марса if You liked the article Марсоход Curiosity готовится начать бурение Марса, prokomentiruet her.
| | |
| --- | --- |
| an html link to the article | |
| BB-link to the article | |
| Direct link to the publication | |