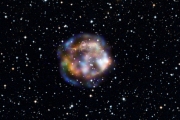 The spacecraft NASA has documented the consequences of the explosion of a massive star, resulting in a picture with unprecedented resolution.
A photo taken with the space telescope company nustar, in x-ray range, demonstrates the Cassiopeia a supernova remnant in the constellation Cassiopeia, located at a distance of about 11,000 light-years from Earth. Cassiopeia a is the brightest source of radio emission in the sky. At the moment the size of the expanding substance residue is about 10 light-years. Researchers say that a supernova explosion occurred about 300 years ago.
There is an assumption that an exploding star was very massive, that by the moment when the explosion occurred, a large part of the substance has already been flushed into space. This substance was used as a kind of a covering, absorbing the light from the flash. Temperature of the shell supernova 30 million degrees, and the expansion occurs at a rate of 6.5 thousand km/s
New image allows you to get a detailed view of a dying star. Project Manager company nustar Fiona Harrison (Fiona Harrison) from the California Institute notes that earlier images obtained by Chandra showed supernova explosion as a single point.
The spacecraft company nustar, which costs 165 million dollars, was launched in June 2012. The mission will last two years. Among its tasks are the following: overview of the areas of the sky to study black holes, posterity card radiation of radioactive elements in the remnants of a supernova, to investigate the origin of relativistic jets of particles that are emitted from a supermassive black holes.

Com-Eva: 0
You are reading news Последствия взрыва массивной звезды if You liked the article Последствия взрыва массивной звезды, prokomentiruet her.
| | |
| --- | --- |
| an html link to the article | |
| BB-link to the article | |
| Direct link to the publication | |