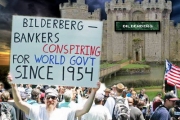 If semi-centennial trend will continue, secretive unit of international forces, known as the Bilderberg club, will gather in 2013 in Europe shortly after the associated group, Trilateral Commission (TC), will hold a March 15-17 meeting in Berlin. Usually Bilderberg - who last year was going in Chantilly Virginia - holds its annual meetings alternately in North America and Europe. However, something indicates that Bilderberg-2013 will change its rule and will gather again in the States.
Apparently this is caused by the increasing public attention, which it uses in the European media, which is quite different from the behavior of their American counterparts, showing a greater willingness to adapt the regime of secrecy of Bilderberg.
The source, who was at the meeting of the North American group, the Trilateral Commission, which took place from 30 November to 3 December in Washington, overheard Richard Armitage, former Deputy Secretary of state under President George U. Bush, said that Bilderberg and TC very dissatisfied "with their constant exposure", adding that the organizers considered the next Bilderberg meetings in the US, so as not to attract attention.
As a rule, Bilderberg appoint a meeting for two years. In order to reserve a huge country hotel, you have to shell out big money. Therefore, if the Bilderberg intends to change for 2013 his hiding place, the organizers have to hurry up in order to fulfill the new agreement.
Fed Chairman Ben Bernanke reiterated most of what he said behind closed doors at the Washington meeting of TC during the press-conference held on December 12, predicting that the American economy will continue to be sick "at least" until the mid-2015. "If the economy has really gone for fiscal cliff... this would have a significant adverse effect on the economy and unemployment, " Bernanke said to journalists. "In that case we would have tried to do everything possible... but I just again want to say frankly that we cannot repay the impact of fiscal cliff. He is simply too big".
Officials of the fed announced its forecast that the unemployment rate, now amounting to 7.7 percent to reach 6.5 percent before the end of 2015. But the unemployment rate is worse than the figures show: millions of Americans have lost hope to find work, other millions work in less well-paid jobs or in a part-time because companies are cutting the States to get away from the high costs of compulsory medical insurance provided "obnajennye" for workers employed full working week.
If the country will go for the fiscal cliff" is a term that was coined Bernanke, more than half of Americans will face a sharp increase in taxes from January 1, 2013 (the decision of a question of deficiency of the budget postponed until March 1, 2013; approx. mixednews.ru). But millions of Americans who do not pay taxes will continue to receive "compensation". Social security will be threatened, because Congress failed to comply with its laws. According to the Act on social security, 1933, was withheld from the employees payments were to be kept in a separate Fund, which would receive interest on their funds. If this law was carried out, today the Fund would be a huge sum of money earned.

Com-Eva: 0
You are reading news Бильдербергский клуб может провести следующую встречу в США, а не в Европе if You liked the article Бильдербергский клуб может провести следующую встречу в США, а не в Европе, prokomentiruet her.
| | |
| --- | --- |
| an html link to the article | |
| BB-link to the article | |
| Direct link to the publication | |