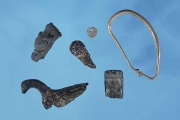 In the North of Germany found the Viking town relating to the VIII century.
This is the earliest Viking settlement in the country. Excavations under Fusingan at the Danish border to identify a settlement with Seastrom, which the scribes of the ruler of the Franks Charlemagne mentioned under 804 year as a military base early Scandinavian kings. Its exact location is still remained unknown.
Head of the excavation Andres Dobat from the University of Aarhus (Denmark) emphasizes that, like it or not, but the settlement provides valuable information about the military organization and urban planning in the beginning of the Viking age.
The excavations, which started in 2010, has revealed some thirty buildings. Aerial surveys indicate that there are approximately two hundred buildings. The main of them has more than 30 m long and 9 m wide. It was burnt down - probably, the city was taken by storm: from charred walls stick out arrows, and at the entrance scattered garlic, i.e. "anti-personnel barriers that time. The researchers do not exclude the possibility that the thorns pitched the attackers themselves - in order to detect those who ran out of the burning building.
Among other findings - precious jewelry, glass beads and silver coins.
The city dates from the same period as the nearby strengthening Danevirke - impressive 30-kilometer-long system of ramparts, built by the Danes where in the VIII century. In all probability, the settlement also was of great military significance.
According to the chronicle, SeaStorm served as a military base of the Viking king of Getica (Godfred, Goodbred), which restored Danevirke in the beginning of IX century in connection with threat of the Frankish conquest. Indeed, it was at this time Scandinavia comes into the view of the chroniclers of Charlemagne.
Although the city itself was not strengthened, it was surrounded by lakes and swamps, and pass it was possible only by a narrow bridge. Inhabitants lived in dugouts - whether it was a garrison of Danevirke, whether the builders of the fortifications.
The importance of the city is evidenced by the fact that the international port and commercial centre of Hedeby was located just 4 km away. Interestingly, the settlement near Fusing has a distinct Scandinavian style, while Hedeby is mixed German and Slavic features. In other words, very close from each other. Probably, wishing to reach Hedeby required permission from the Vikings. Of course, not free.
Prepared according to National Geographic.

Com-Eva: 0
You are reading news Обнаружено одно из наиболее ранних поселений викингов в Германии if You liked the article Обнаружено одно из наиболее ранних поселений викингов в Германии, prokomentiruet her.
| | |
| --- | --- |
| an html link to the article | |
| BB-link to the article | |
| Direct link to the publication | |