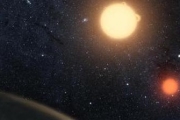 Planets in systems with two stars can be a dangerous place to live, because the planet even have the risk of being thrown out into interstellar space.
The orbit is very far of double stars often become very unpredictable, passing in the immediate vicinity of the planet. This may damage the planetary system, triggering the release of the planet from the system.
The orbits of double stars are broader and very sensitive to interference from other stars. In a wide orbit two stars will pass very close to each other on one side of the orbital ellipse.
There is much evidence that this process is regularly known planetary systems.
Recently astronomers discover more and more systems with two stars, though earlier this system remained largely unnoticed, so they keep a lot of secrets and are poorly investigated.

Com-Eva: 0
You are reading news Звездные системы с двумя звездами представляют большой риск для планет if You liked the article Звездные системы с двумя звездами представляют большой риск для планет, prokomentiruet her.
| | |
| --- | --- |
| an html link to the article | |
| BB-link to the article | |
| Direct link to the publication | |