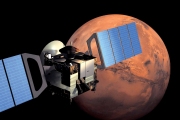 Man of the XXI century did not impress the live shots from orbit or from Antarctica. But to shoot Mars online, it seems that few people had hoped. Thanks to the European space Agency this was fixed.
At the orbit of Mars is now rotates three active research satellite. Two of them belong to NASA, one - Mars Express - ESA. Each satellite is equipped with cameras of various resolution, different focal lengths and different scientific purposes. Now we get images of the surface with details of 25 cm per pixel. But, by a strange coincidence, none of the designers didn't think about to put the camera for full coverage of the Martian disc. But the case has helped to correct it.
When Europe was sent Martian it consisted of two parts. In addition to the orbital module he carried and the lander. Named after the ship of Charles Darwin's Beagle-2", he had to find life on the red planet. But never did. From the surface of Mars he so on the link and it didn't work, and ESA has admitted the loss.
For shooting of the process of its undocking from the orbital stations and the first phase of the descent, the satellite was placed VMC (Visual Monitoring Camera) and a lower resolution camera. Undocking she never took off (or removed but not published), and use the camera in time to anticipated. However, Sputnik flew for a long time, so I decided to use it for shooting of Mars and was not disappointed.
Mars Express has an elliptical orbit - this distinguishes it from the two American brothers who have a near circular. Due to this we have the chance to see Mars in full coverage, bringing on a circular orbit would fail.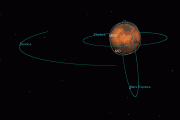 So we see the footage VMC process zoom in and out from Mars.
From 2010, the camera had problems and personnel from it was not received. Work on return of its operation was carried out slowly, as scientists do not attach much importance to this camera because of the low resolution. But now, it seems the situation has changed. By may programmers managed to solve the problem of the camera and she opened again.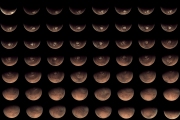 (Composition of personnel from may to December 2012.)
By December, has added one more pleasant thing. Luggage practically in automatic mode was ready to post colored frames on Flickr.
http://www.flickr.com/photos/esa_marswebcam/
Now a full-fledged online no. But some days it is possible to find a series of frames, of which at desire it is possible to assemble animation flyby of Mars.
News and information on the camera can be found on her blog.
http://blogs.esa.int/vmc/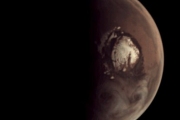 Sometimes you can find some incredible footage like this, with the image of the double cyclone cloud on Mars.
In General, the camera is best just to monitor the Martian clouds.
Novice researcher of Mars, we must warn that the camera lens somehow appeared interesting spots that an inexperienced spectator may seem link rebel fighters hurrying to Tatooine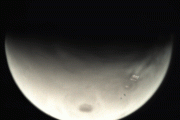 It is strange that the journalists of Newspapers still do not understand about these spots and are not pleased the world discovered the alien ships hurrying to Earth to the 21st of December.

Com-Eva: 0
You are reading news Вебка на Марсе if You liked the article Вебка на Марсе, prokomentiruet her.
| | |
| --- | --- |
| an html link to the article | |
| BB-link to the article | |
| Direct link to the publication | |