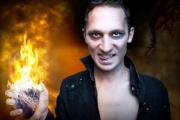 The recent spate of terrible cases in different parts of America, mad when people don't just attacked their victims, but also strove them... to eat, caused a wave of rumours about the impending Apocalypse zombie".
However, the authorities are obviously not asleep. First, a high-ranking official of the Ministry of health refuted the rumors about the existence of the living dead, and now the government has done a 180 degrees and conducted exercises, during which the employees of emergency services studied to protect civilians from the same zombies.
The exercises were held in the framework of the Day of the zombie Apocalypse" in the town of Bangor, Maine. Hard to say, accidentally or not, but the place of the exercises selected New England town in which he lives, "king of horror" Stephen king. He often writes about the living dead, and many of his novels and short stories takes place in Bangor and its surroundings.
According to the newspaper Bangor Daily News, the exercise was attended by dozens of employees of hospitals, rescue services and the National guard. Despite the slight touch of jokes, teachings were quite serious event and had the purpose to prepare appropriate services to action in the event of serious infectious diseases.
Bangor, according to the exercise scenario, becomes the site of an outbreak of zombies, which started in Jamaica and spread through the bites. Bitten must have been as quickly as possible to find the doctor, so that he gave him a shot. If vaccine to delay, he, in turn, becomes a zombie.
"Overall, our current teachings are very similar to regular events, we have to prepare our employees to the emergence of a flu epidemic," explained Katie knight, Director of the North-East of the centre for resources.
Despite the similarities, there were, of course, in the Bangor exercises and without specific features related to zombies. For example, according to the scenario, the employees of emergency services had to deal with groups of citizens who are caught and can Lynch zombies, theft of drugs and food and other unpleasant situations.
One of the important participants of the "Day of the zombie Apocalypse" has become a makeup artist don Wade, specializing in the creation of artificial wounds and injuries in exercises and seminars medical and military. Usually he is engaged in imitation of lacerations, burns, amputations, heart attacks and so on, but in Bangor he first had to create another zombie. Himself Wade and all participants believe that with the new task he did well.

Com-Eva: 0
You are reading news «Апокалипсис зомби» - то ли ученья, то ли карнавал if You liked the article «Апокалипсис зомби» - то ли ученья, то ли карнавал, prokomentiruet her.
| | |
| --- | --- |
| an html link to the article | |
| BB-link to the article | |
| Direct link to the publication | |