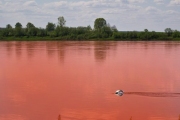 The second day as the water in the river Barzas that takes place in the same village in the Berezovsky district, Kemerovo region, painted in red-brick color. About it to our correspondent said the resident of the village, worried about the situation.
"The river is bright red, brick, as far as sight, " says Anna Korosteleva. And, it seems, fish once alarmed, as if trying to jump out on shore. According to residents, the water in the river blushed because of break of a dam on the gold mining company, which is on the river. Concerned residents appealed to the local TV station, but there told them, that settles it. However, the water in the river, where the water is used for household needs and for drinking, still red. According to Anna, the river was already blushing once.
We have addressed for comments to the administration of Berezovsky city district. Press Secretary Tatiana Akimova confirmed the fact colouring of water, and also causes strange natural phenomena. "In the next area is the enterprise on extraction of gold, " she says. - Gold is washed. All the raised water with silt and clay, accumulates in the sump. This tank burst, clay got to the river - the water is stained. The same situation took place in April of this year." According to Tatyana Sergeyevna, in the Barzas were specialists from the field: water samples were taken for the study. As it turned out, the water exceed the indicators only in color and transparency. It contains no poisonous or toxic substances, harmful to people and animals, said the spokesman. Nevertheless drink this water cannot - water in the city is from artesian wells. In the taps and wells barzesti red water will not see. Swim in clay Barzas, while not recommended for the same reasons.
How long the water will remain red? According to Tatiana Akimova, in April the river was cleared for 3-4 days. She also said that the leadership of the region intends to affect workers, so that this situation does not recur.

Com-Eva: 0
You are reading news Вода в кузбасской реке покраснела if You liked the article Вода в кузбасской реке покраснела, prokomentiruet her.
| | |
| --- | --- |
| an html link to the article | |
| BB-link to the article | |
| Direct link to the publication | |