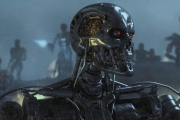 If You believe that a post-apocalyptic future, which was shown in the movie "the Matrix" and "Terminator"is harmless fantasy, the experts will disappoint You. Rise of the machines - it is quite real, as researchers believe, from Cambridge, who created a Commission which will not allow the robots took the Land.
The group of experts led by specialist in the field of astrophysics Martin Rice, Professor of philosophy Hugh price, and one of the founders of the Internet company Skype Jan Tallinn will study the question about the probability "deadlock" civilization development, in which humanity is enslaved intelligent machines.
They founded "Center for the study of existential risks", which will study the possibility of creating a self-sufficient artificial intelligence, global warming and ways of development of biological technology. Scientists believe that it is stupid rise of the machines fantastic option for the future.
Employees of the University of Cambridge believe that electronic mind, similar to the one that took over the world in "terminator", developed by the U.S. military specialists now. Researchers believe that to sound the alarm is still too early, however, given how high rate, it is necessary to do everything to the enslavement of mankind machines could not be even hypothetically.

Com-Eva: 0
You are reading news В Великобритании готовы подавить восстание машин if You liked the article В Великобритании готовы подавить восстание машин, prokomentiruet her.
| | |
| --- | --- |
| an html link to the article | |
| BB-link to the article | |
| Direct link to the publication | |