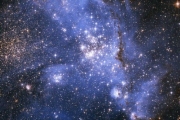 If alien life exists, it can be confirmed or refuted by 2024, and all thanks to the development of a new radio telescope.
The telescope Square Kilometer Array (SKA) will open, according to the scientists, new and interesting opportunities. If all goes according to plan, then people will be able to make contact with aliens in the past 12 years.
The radio telescope will start in 2016 and will be the largest such telescope in the world, which will answer some of the fundamental questions of our Universe, which still remain unanswered.
It consists of thousands of radio waves, covering 1900 square kilometers of surface area, being located in the Australian Outback and will provide an alternative point of view on many aspects of the Universe compared to optical telescopes.
Scientists say that it will be 50 times more sensitive, and will allow you to explore outer space is 10,000 times faster than any other telescope. He will give astronomers an idea of the formation and evolution of the first stars and galaxies after the Big Bang, including the role of cosmic magnetism, the nature of gravitation and perhaps even alien life, if it exists.

Com-Eva: 0
You are reading news Люди могут вступить в контакт с инопланетянами в течение 12 лет if You liked the article Люди могут вступить в контакт с инопланетянами в течение 12 лет, prokomentiruet her.
| | |
| --- | --- |
| an html link to the article | |
| BB-link to the article | |
| Direct link to the publication | |