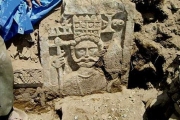 Archaeologists have discovered what they believe to be the ruins of the Christian Empire, buried in the mountains of Yemen. This discovery has led to a theory that it probably was once a Christian Church in Mecca.
Carved in stone Christian figure was found in the Zafar in 581 km South from the Holy city, and is believed to have been made in the era of the prophet Mohammed. Paul Yule, an archaeologist from Heidelberg, Germany, after the excavations in Yemen came to the conclusion that Zafar was the center of Arab tribal Confederation and has had its effect on all the way of development of Mecca.
The crown on the head of a shape similar to those worn by Christian rulers in ancient Ethiopia. Zafar was a large Jewish community, as well as the place of residence of the Christian and Arab residents. But the peaceful life was replaced by the conflict after tensions in the 5th century. In order to stop the advance of Christianity Arab kings adopted Judaism and the ruling class of society followed his example. Then around 520 ad they attacked Christian colony Najran.
There are also historical evidence, in the form of inscriptions on the rock Dating from 552 ad, which dates from several Western historians as the year of birth of Mohammed.
The rock drawings can be interpreted as belonging to the tribe of Quraish, belonged to the prophet, and who sometimes fought for Christianity. According to scientists, there are indications that this may be true, but many aspects of the finds are still unclear.

Com-Eva: 0
You are reading news В Мекке обнаружена чеканка каменной кладки с христианской фигурой if You liked the article В Мекке обнаружена чеканка каменной кладки с христианской фигурой, prokomentiruet her.
| | |
| --- | --- |
| an html link to the article | |
| BB-link to the article | |
| Direct link to the publication | |