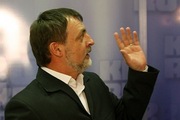 One of the most famous psychics Russia gives the forecast on Jan. Alexander Litvin - one of the most famous psychics Russia, expert on energy and its impact on our lives, the winner "psychic Battle - 6" tells that awaits us in the first month of 2013
WHAT TO DO IN JANUARY? NOT RELAX
-Well and January - the beginning of the year and the expectation of a miracle! - exclaims enthusiastically Alexander Bogdanovich. "But wait without action will not lead to success! One wise man said, said that the road by walking, and the other reminded about a lying stone - and thought about one thing: for a successful life need to make efforts and to WORK. The motto of January - work. Any!
Don't believe in fairy tales that you are tired. Don't believe in winter depression - it just does not happen. A lot of forces, as never before - since it is the beginning of the year. A new beginning, and in the beginning forces are always a lot! And these forces, it is necessary to spend. A playful way of life imposed on us enterprising merchants, will lead to poisoning. And poisoning it has delayed and prolonged action, almost for the Whole coming year.
Energy 1-4 January corresponds with the new year holiday: have fun and relax in full force! And here since 5 January of the people, for one reason or another working, will, ironically, to be in a more advantageous position compared with men by the resting - energy future days will change so that the idle pastime will make an imbalance in your personal power, and recreation for the benefit of not going.
The thing is that immediately before the change of energy of the year, the vast majority of people is at the peak of his personal energy forms. And to this peak is not turned into a surplus, which then will turn out badly need this accumulated energy spending, in other words, to balance. The absence of hard work in January can lead to big scandals in February. The main target for the January - to plow as an ox!
It is clear that many at this time holidays, it is clear that "the whole country has a rest". To compensate for the absence of routine work can exercise, but there is one condition: physical activity should be with a kind of public use - a shovel in hands and to remove snow! Remember that any work done in this period, the maximum increase your personal power, will contribute a great partnership that will strengthen the family and the health of their relatives.
In General, January is a time of family labour. And even the simplest work at this time will help you to get closer. If you teach your children to do some simple things, for example, girls - cross stitching and boys right to hammer in nails, then you honor and praise. Another way by working to strengthen their family and the clan is the work in the kitchen. Baked with his hands the bread, the aroma will make you a most attractive to other people. Beauty through the work, here is another motto of January.
WITH WHOM TO BE?
In January, in no event it is impossible to be "alone": you need to devote time to children, parents and spouses. And we should not attempt this month to find out who's the boss or sharing power - it now will not.
And here's a tip to those who have not is any relationship with the opposite sex. Cost to build relations in January? I would not stew. Zametok, that is, make, but to force the issue is not worth it. Period not favorable even to flirt, not to mention the far-reaching plans. Wait until March!
WHAT TO EAT?
In January is set up body on all subsequent periods - this applies to adults and children. So January must pass under the slogan: "the mode of the day - everything!". It was in January, there is a danger sharply to gain weight simply because sleep and rest was not given sufficient time. With the aim of setting body in January need to reduce, but not eliminate completely (!) from the consumption of animal protein and may get on various procurement and pickled vegetables: tomatoes, cucumbers, cabbage. And some increase consumption of water.
SOMETHING TO FEAR?
Be prepared for the fact that in January the perception of color will be changed and you may well be a kind of attacks of color blindness. I hasten to reassure you that this is not forever. However, you must be careful while driving and not to get involved with shopping you'll want to return all your purchases due to the fact that the favourite colour of the house looks more like a shop, and, as they say, not so.
WHERE TO REST?
It is common tradition to have a long vacation in January has sent many a vacation. For adventure. Including on the fifth point. Where in January it is relatively easy to relax? This winter, "old Europe continues to be the best direction for recreation or simply for a change of scenery. However, in January I strongly recommend to refrain from trips to the mountains, especially in the Pyrenees and Alps. Avalanches are waiting for you! To ascend is easier, but to go down - not always.
The most correct from the point of view of energy, the direction is North-West, and all that's be on the Northwest from your permanent residence. Karelia, Kola Peninsula, Finland, Norway, Sweden!. This, at least, not dangerous. But take a closer look at the compass is not the West, namely the North - West! And if you on the 55th degrees North latitude, you need to move a couple of degrees to the North and not to cross the ocean!What adventure awaits you in countries with warmer climates?
The deceptiveness of the situation is that in the place of vacation more often nothing negative - reaction comes later, after returning to their land. The thing already brought energy somebody else's place. Many quarrel to the nines and increase the fees of experts divorce processes, others will go on to fortune-tellers and enchantment - I do not damage Lee, Ali, who love you? But as soon accomplished, what to do? Proceeding from the fact that imported energy somebody else's place is not stable, and on the Russian frosts long to keep its properties will not be able to call on the help of nature.
All holiday makers recommend the baptism together in the font in the Jordan! To be yourself and to wash off the dust Brazilian roads, which dulls your intuition and ruins your life.
OWN BUSINESS
Alexander Litvin was born on July 25, 1960 in the city of Troitsk, Chelyabinsk region. First profession was a medic, on the second pharmacist, for 15 years, was the head of medical service of the military unit in Chukotka. After retiring at the age of 33, he returned to his native city, where for a long time worked in customs. The first two entities added management and legal. In 2008 took part in the project "the Battle of psychics" on the channel TNT and pobedil currently lives in Moscow, is engaged in private practice and business consulting. CCM volleyball. Travels in his free time, he enjoys hunting and fishing.

Com-Eva: 0
You are reading news Экстрасенс Александр Литвин: 2013 год принесет удачу тому, кто впряжется в работу с 5 января if You liked the article Экстрасенс Александр Литвин: 2013 год принесет удачу тому, кто впряжется в работу с 5 января, prokomentiruet her.
| | |
| --- | --- |
| an html link to the article | |
| BB-link to the article | |
| Direct link to the publication | |