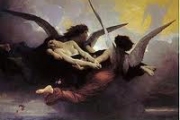 Two centuries ago the streets bustling Petersburg wandered poor beggar in the men's castoffs. The townspeople called it differently - the wanderer grad Petrov, Andrei Feodorovich, Blessed Xenia... But in the memory of descendants she remained Xenia of Petersburg, amazing woman, all life which became the hymn of eternal love.
A different fate
17-year-old Ksenia married for big love. Her choice - young officer Andrew F. Petrov - different rare beauty and article. And his voice was such that will be heard. Thanks to his velvety baritone Andrew F. occupied a special place among the court choristers.
Immediately after the wedding, the couple bought a beautiful house on the Petersburg side and developed it with love and care. They lived soul to soul, every day thanks to God for giving them happiness is to find each other in this big world. In a few years Andrey Fedorovich rose to the rank of Colonel. Xenia Grigorievna was incredibly proud husband. And only one thing was marred her life - the absence of children. She could not become pregnant and bear children. Being a devout woman, she understood that this is not just so that the Lord gives her baby for some reason. Just to understand, what, could not.
"Maybe Andryushenka, I did not deserve? she asked her husband. - And maybe fate has in store for my mission is different? At that moment Xenia Grigorievna didn't realize how right she...
The Lord blessed
She was 26 when Andrey Fedorovich fell ill. For three days the Colonel lay sick of a fever, and night of the fourth day quietly died. The death of her husband was so sudden and ridiculous that Xenia Grigorievna could not believe it. At that tragic morning it for several hours shook the dead body, stroking her husband's hair, asked to open their eyes and not to frighten her. The women shock was so great that she refused to believe that her beloved, Andrei no more.
After the funeral, a widow for several days out of the house, refused to eat and in the morning until the evening talking with your loved as if he was here. Maid Dunyasha feared, as if grief Xenia Grigorievna not have gone insane. When after a time, a woman said to her that God heard her prayers and blessed, maid only flapped his hands and said "shame now?" she ran crying into his room.
But Xenia Grigorievna from that time was, on the contrary, calm and resolute.
- You must understand, " she said his faithful Dunyasha. Because Andrei Grigorievich died without repentance. And do you know what a terrible way in another world needs such people? As you will think that he alone is at war with the demons that heaviness not released of sins does not allow him to enter heaven, so shall it break down into tears. But more to cry, I will not, fear not. Because the Lord himself told me the output blessed to exploit of foolishness.
- Of foolishness? But how is it, mother? What are you thinking?
Is a heavy cross, Dunyasha, but I will bear it, how many have the strength, and thus will beg God for forgiveness Andrusevych sins. And you, sweetheart, go to their village. Me your help is no longer needed, then I will...
From that day Xenia Grigorievna became a completely different person - her dead husband Andrei Fedorovich. All day she wandered around the city in his caftan, trousers, cap.
- Andrey Fedorovich did not die, " she told a friend, met on the way. Is Ksenochka mine died and I, a sinner, then left.
People cried, looking for a widow. All knew how the couple loved each other, and had no doubt that Xenia Grigorievna was mad with grief.
The house inherited from her husband, she gave the poor woman, Praskovya Antonova, but with the condition that the free will to put to sleep all who need it. All the stuff and furniture are distributed to the needy, and the money brought into the Church. As the widow of a Colonel, Xenia Grigorievna relied pension, but she rejected it. Relatives of Andrei Fedorovich could not stand the thought that a large stone house, which cost a lot of money, literally flows out of hands. They went to the doctors, believing that Xenia Grigorievna is out of his mind. But doctors talked to a young woman, came to the conclusion that it is absolutely healthy, that no trace of insanity in it, no, but because she has the right to dispose of his property as they please...
The strange beggar
And now, having given away all that she had, in the same suit deceased husband Ksenia was on the street. Wandered for days along the streets of Petersburg, responding only to the name "Andrey Fedorovich".
Evil men and mischievous boy was laughing at her, teased. But she took no notice of jeers. Occasionally went blessed Xenia to his friends, talked about life, had dinner and again went on a journey. At dusk, she always went out of town in the field. The night until the dawn knelt and prayed...
Over time, the citizens began to notice that Ksenia is not a simple beggar. Alms she took not from each, but only from the good and decent people. And those magically works immediately went uphill. And if you went to someone's house, there was peace and quiet. She never made a strange or crazy actions, characteristic insane. And many of the events anticipated in advance.
Once blessed Xenia went up to my former home to Praskovia Ivanovna. And at the door said: "you, Praskovya, sit here and not know that you are God's son was sent. Drop everything and go to the Smolensk cemetery," she said. Praskovya Ivanovna thought, "What could be in the cemetery son, there are some dead?" However, everything up and running. Even from a distance she saw a crowd of people heard the shouts and cries. It turned out Kucher is a Scorcher at full gallop knocked pregnant woman, who immediately gave birth to a healthy baby and herself from injuries died. No one knew what to do with the baby. Praskovya took the boy to him, adopted and raised as his own son.
Over time, the rumor of blessed Xenia spread around St. Petersburg. Merchants, bourgeoisie, officials, all sought to take the woman in the house. Because it is in their house came love and joy. Shopkeepers knew that if blessed Xenia go in the morning into the shop and take a pie or a nut, trade in this day will be successful. Street peddlers cakes and loaves, they can Express their trays were looking forward to, so she took meal - near the "lucky" at once a crowd gathered rachathewa his product. Cabbies, seeing on the street Holy, and asked to go with them though a few steps - the one she chose, always came home with abundant revenues. The mother noticed that if blessed Xenia will caress or shake in the cradle of a sick child, he will get well.
In those years in the Smolensk cemetery was built a new stone Church. Cranes have not been, and at the beginning of the working day masons raised the bricks to the top. But one morning, having come to work, they discovered that someone had already done their work - bricks straight rows were piled on top. On the second and on the third day, the story was repeated. "Who is this mystery helper?" - surprised the builders, and asked one of my friends after work to hide somewhere and see who it is at night helps them. Night came, squeaked stage wooden stairs. Hiding behind one of the mogilkami Mason could not believe their eyes: heavy bricks wore an old woman in ragged clothes. She worked all night until the morning. But as it was light came in and out."
To bow to the righteous one
How could the half-starved and almost naked woman to experience St. Petersburg cold winter and spring, is anyone's guess. But whatever it was, wandering blessed Xenia spent 45 years and died at the 72nd year of life. Before his death, she saw in his dream the mother of God. She said the poor woman that her earthly life comes to an end, but from now to the end of the century it will remember and honor the people.
Buried Ksenia at the Smolensk cemetery in St. Petersburg, not far from the Church, for construction of which it through the night dragged up the bricks. Immediately reached for her grave pilgrims. And for two centuries be a flow of people willing to bow to the righteous and to receive from it the help.
They took the land from the grave of the Saint and took them in cities and villages. Over time, from a burial mound nothing left. Poured earth - again the same result. In the end, over the grave, put a stone plate, but the pilgrims broke into tiny pieces and scattered to their homes. Then on the donations of the people coming to worship Xenia of St. Petersburg, over the grave was built a stone chapel with the inscription: "Who knew me will remember my soul, for the salvation of his soul. Amen."
When Emperor Alexander III became ill return typhus, his wife Maria Fedorovna from the waves is found. Some of the courtiers brought her a handful of soil from the grave of blessed Xenia and advised him to put under the pillow of the patient, having prayed to the blessed. The Grand Duchess has done everything exactly, and at night he saw in a dream an old woman - barefoot and dressed in rags. She looked at Maria Feodorovna tenderly and said, "don't worry. Your husband will get well. And the child that you carry in yourself, girl. Name it Xenia. It will keep your family safe from disasters".
All that said, blessed, andispolnilos with precision: the Emperor recovered, and his wife soon gave birth to a girl called Xenia. Since then Maria Fedorovna each year, came to the tomb of the blessed, ordered a memorial service. And till the revolution among the countless flow of the faithful who came to the grave of St. Xenia of Petersburg, one could see udobstvami the Empress.
In 1988 blessed Xenia was canonized.
Tamara Panina

Com-Eva: 0
You are reading news Во имя любви if You liked the article Во имя любви, prokomentiruet her.
| | |
| --- | --- |
| an html link to the article | |
| BB-link to the article | |
| Direct link to the publication | |