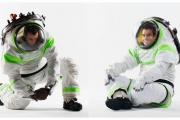 The U.S. Agency NASA has finished testing the prototype of the suit Z-1, which looks very similar to the suits from cartoons.
Despite this similarity, the suit Z-1 - a high-tech device. It can provide adequate protection against various types of radiation, which makes possible a longer stay astronauts outside of the ship.
Articulation of the suit have a higher degree of freedom compared to other solutions. It is assumed that it can serve for work in open space and for landing on the surface of other planets.
At the moment, the suit is only a prototype and will not be used in open space. In the future, NASA plans to create modifications of the device, but is not reported what components of the device will undergo modernization.

Com-Eva: 0
You are reading news NASA завершила тестирование скафандра Z-1 if You liked the article NASA завершила тестирование скафандра Z-1, prokomentiruet her.
| | |
| --- | --- |
| an html link to the article | |
| BB-link to the article | |
| Direct link to the publication | |