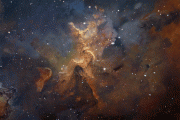 Finnish photographer Jukka-Pekka Metsavalja not be offended if we call him a magician. Just look at this amazing 3D animation scattered star clusters Melotte 15 in the Heart nebula (IC 1805)!
He had dabbled in stereo and stereo image, but it's something absolutely incredible!
"In my 3D experiments combines science and art, " says hero of the notes. - First, I am gathering information on the distance and other information and then proceed to 3D conversion. As a rule, the image has known stars that I can put in the right place. If I know the distance to the nebula, I can adjust the distance to the stars, so in front of and behind the subject is correct their number".
If the distance is not known, Mr. Metsavalja is the Golden rule: the brighter the star, the closer it. As for the gas-dust formations, to make them a three-dimensional possible according to the results of a simple observation. For example, dark nebulae should be placed in front of the emission.
"Many regions of star formation have almost the same structure - continues to share secrets photographer. - At this picture we see a newborn stars that make up the scattered accumulation inside the nebula. Their stellar wind blows off the gas, and education, reminiscent of the column must specify the source of the stellar wind".
"How accurate the model, depends on how much I knew, and how many wondered, - said Mr. Metsavalja. - And the reason why I'm doing this, is that I just want to show that space is not flat picture, and three-dimensional objects in three-dimensional space. The second reason is that I can do this".
The picture is assembled of forty-five photos at a shutter speed of 1 200 each (a total of 15 hours).

Com-Eva: 0
You are reading news Звёздное скопление в 3D if You liked the article Звёздное скопление в 3D, prokomentiruet her.
| | |
| --- | --- |
| an html link to the article | |
| BB-link to the article | |
| Direct link to the publication | |