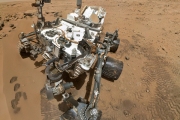 NASA chief Charles Bolden (Charles Bolden) reported that at the end of the decade, the office has scheduled the launch of the new spacecraft destined for Mars exploration.
Let's remind, that on August 6, on the red planet made a successful landing robot Curiosity is the biggest and heaviest planethood ever created by man. Rover weighs 899 kg, its length and width is equal to 3 and 2,8 m, respectively. The device is equipped with multiple cameras, a neutron spectrometer and a set of tools that can analyze soil samples for the presence of evidence about the life of organics and some gases.
It is reported that the launch of the new Rover is scheduled for 2020. It will be built on the same platform that the current Curiosity, which will borrow boarding system and many are in possession of the NASA spare parts. This will increase the chances of mission success and reduce costs: budget is estimated at $1.5 billion against $2.5 billion needed for sending "Curiosity".
NASA also said that the future of the Rover will receive new scientific tools that will allow to collect more accurate and detailed information about the planet. These data should help in the planning and implementation of a manned flight to Mars, which is expected to be possible in 2030 agricultural
By the way, recently Curiosity was the first to use the whole set of tools for analysis of Martian soil and found in the sample, a complex chemicals found in water, sulfur and substances containing chlorine.
Prepared according to NASA.

Com-Eva: 0
You are reading news НАСА отправит нового робота на Марс в 2020 году if You liked the article НАСА отправит нового робота на Марс в 2020 году, prokomentiruet her.
| | |
| --- | --- |
| an html link to the article | |
| BB-link to the article | |
| Direct link to the publication | |