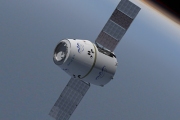 The company SpaceX will select the colonists of the red planet on culinary preferences.
To fly to Mars, in order to build a new civilization, will only vegetarians. According to The Sun, sure of Director of the space company SpaceX Elon musk. After successful delivery NASA ISS in the company began to work on a commercial project colonization of Mars.
According to his muck, 80 thousand colonists will fly on a neighboring planet with the best technology, which today is the Earth that is under a special dome in the crater to build the first city and begin to grow food. However, colonists, according to the businessman, have to be vegetarians. Because lead animals to Mars to brood will be difficult.
In addition, musk convinced that the colonists should be exactly 80 thousand to a new civilization could develop peacefully. "If to send to Mars few people - start problems with genes and civilization will degenerate.
If you send too many colonists - civil war inevitable" - said the businessman. The company SpaceX plans to sell 80 thousand tickets to Mars by 2020 at a price of 500 thousand dollars for one.

Com-Eva: 0
You are reading news Колонизировать Марс полетят только вегетарианцы if You liked the article Колонизировать Марс полетят только вегетарианцы, prokomentiruet her.
| | |
| --- | --- |
| an html link to the article | |
| BB-link to the article | |
| Direct link to the publication | |