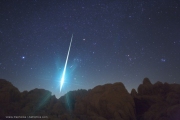 The most spectacular meteor shower Geminids on the approach. Already next week the night sky would be through dozens of meteorites. Spectacular event will be able to enjoy including residents of Ukraine.
Its maximum meteor shower will reach in the night from Wednesday to Thursday, December 13. Then, it will be expected from radiant flux - point in the night sky that is located near the stars castor in the constellation Gemini. It is from this constellation Geminids and got its name (Gemini).
In this year are expected to be excellent conditions for observations of meteor shower, due to the fact that the Moon will be in the new moon phase. The best place to see - Central Russia, Ukraine, China, Europe and North Africa. Here an hour, on average, can be seen on 120 meteors that will crash into Earth's atmosphere at a speed of 35 miles per second.
The Geminids are considered the strongest annual meteor shower, even stronger than the August Perseids.

Com-Eva: 0
You are reading news На следующей неделе в небе огромный звездопад - 120 метеоров в час if You liked the article На следующей неделе в небе огромный звездопад - 120 метеоров в час, prokomentiruet her.
| | |
| --- | --- |
| an html link to the article | |
| BB-link to the article | |
| Direct link to the publication | |