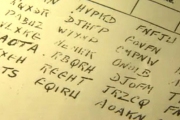 In November of the current year resident of Canada found in the fireplace foot of a dove, to which was attached a letter. Cryptography from the UK said that written message about 70 years ago, but to decrypt they failed.
Gordon young from Peterborough was able to decipher the code a month later. Among other things, he boasts of that did it in record time - 15 minutes. Canada noted that the study cipher helped him a book which he inherited from great-grandfather. According to Yang, the letter is quite simple cipher which has been used since the UK military during the First world war. He stated that the letter was written in 1944. Its author was a Sergeant in the British army, which took part in the Normandy operation. In the message it was about how is German troops.
The canadian found that the letter sent at least twice, as in the text of the message contains two rooms pigeons. It should be noted that during the Second world war in great Britain there were about 250 thousand pigeons, each of which had its own personal number.

Com-Eva: 0
You are reading news Канадец смог рсшифровать письмо эпохи Второй мировой войны if You liked the article Канадец смог рсшифровать письмо эпохи Второй мировой войны, prokomentiruet her.
| | |
| --- | --- |
| an html link to the article | |
| BB-link to the article | |
| Direct link to the publication | |