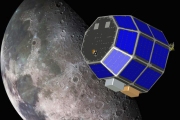 Let's see what programs and space, and suborbital launches planned for 2013.
Although in 2011 ended the American space Shuttle program, the astronauts still carry out regular flights on Russian "Soyuz" to the International Space Station. And will continue to do so until at least 2020, while ISS will not cease to exist and will not be submerged in the waters of the Pacific ocean. Plus, China plans in 2013 manned mission to dock with the ISS. Many other countries, such as South Korea, India, Canada and the European coalition countries are going to run many of their research projects and space mission next year.
What are space and suborbital launches await us in this new year?
For 2013 is planned many test flights and runs, including the company Virgin Galactic is going to once again test your spaceship SpaceShipTwo rocket engine. The company XCOR Aerospace plans to test your flying spacecraft Lynx. Both companies already in 2014 are going to make a space flight with passengers on Board.
In 2013 South Korea will make a third attempt to launch the Korea Space Launch Vehicle (KSLV) to launch into orbit. The first two attempts implemented in 2009 and 2010, failed.
Indian polar satellite PSLV will be launched on 28 January. It also takes into orbit scientific instrument NEOSSat to search for near-earth asteroids.
In January 2013 South Korea plans to launch research satellite STSAT 2C.
The company Orbital Sciences Corp will test in 2013 your device Cygnus. The launch is scheduled on 5 April.
In late may the company SpaceX plans to launch its capsule "Dragon".
To the International Space Station will be launched three Russian Union with the crew on Board. The launch is scheduled for 28 March, 28 may, September 25. Cargo launches of Russian "Progress" to the ISS is scheduled for February 12, 24 April and 24 July.

Com-Eva: 0
You are reading news Космические запуски на 2013 год if You liked the article Космические запуски на 2013 год, prokomentiruet her.
| | |
| --- | --- |
| an html link to the article | |
| BB-link to the article | |
| Direct link to the publication | |