News , Earth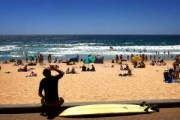 The unprecedented heat is returned to Australia on climate map, which previously had to introduce a new color. In Sydney on Friday was beaten temperature record 74-year-old: the thermometer rose to the level of 45.8 degree is half a degree greater than it was in January 1939.
In the state of New South Wales, where is Sydney, the newly announced fire danger, as well as warnings of thunderstorms and wind destructive power, writes The Sydney Morning Herald. According to a local meteorologist Ben Domenchino to this kind of heat, in the heat of summer Sidney not used: above 40 degrees temperature rose only four times for 107 years.
Because of the melting heat seriously disrupted the work of urban trains. In one case because of the SAG of wires that went right back into the composition, 250 passengers for half an hour was stuffy in the trap, while the management company is not organized their transportation.
The problem is experiencing and monorail system Sydney: it does have to close after due sparks, escaped from under the wheels of a train is on the grass under the monorail.
Around the city, meanwhile, continue to struggle with wildfires raging since the weekend. During this time, the flames have destroyed over 50 private property. Now the fires occupy an area of 46 thousand hectares. Local inhabitants and visitors of area it is strictly forbidden to light fires and do works which may cause fire.
In the first week of the new year, during the previous record-breaking heat wave, the state simultaneously raged over 140 natural fires. They caused damage to the largest Observatory in the country Siding spring, although from the fire could protect the main telescope.
According to ITAR-TASS, under forecasts of weather forecasters, the hot North-West wind will soon yield to the West, which later comes cool South. As a result, the coming night should occur a sharp drop in temperature, and on Saturday afternoon in Sydney is expected only plus 23-24 degrees.

Com-Eva: 0
You are reading news Австралия вновь задыхается от жары: в Сиднее побит абсолютный температурный рекорд if You liked the article Австралия вновь задыхается от жары: в Сиднее побит абсолютный температурный рекорд, prokomentiruet her.
| | |
| --- | --- |
| an html link to the article | |
| BB-link to the article | |
| Direct link to the publication | |