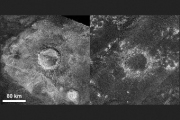 Scientists working with the data apparatus Cassini, has found that wind erosion processes result in a fast-aliasing craters on the moon of Saturn the Titan. The work published in the journal Icarus, and summary of the results of a site of the American space Agency.
The discovery was made by comparing the ratio of depth and diameter craters on Titan and Jupiter's moon Ganymede. In the case of Ganymede depth data were obtained using the procedure conducted by the "Galileo". Information about the craters on Titan was obtained using radiosonde conducted by Cassini.
Scientists have found that craters on two satellites are distinguished not only by number (in Ganymede thousands of them, and on Titan is just 50), but also in depth. Most meteor recesses on Titan were in varying degrees, covered unusual hydrocarbonate sand. On the surface of the satellite was present as almost empty young craters, and filled to the brim with the old ones.
According to scientists, the gradual filling and disappearance of craters on Titan caused by the action of the wind. Unlike Ganymede, on the satellite is dense, consisting of nitrogen and methane air shell, and own flowability of firm breeds such rapid disappearance is impossible to explain.
Unusual behavior of craters is important for understanding the history of Titanium. Because the nature of their filling indicates the existence of erosion on the satellite is already several hundred million years, the atmosphere must have the same age.
Titan is the second largest after Ganymede the satellite in the Solar system. This is the only celestial body in nearby space beyond the Earth, where it is proved the existence of a liquid. The satellite exist methane lakes and rivers. Also, it was recently shown that on Titan possible existence of methane ice.

Com-Eva: 0
You are reading news «Кассини» обнаружил исчезновение кратеров на Титане if You liked the article «Кассини» обнаружил исчезновение кратеров на Титане, prokomentiruet her.
| | |
| --- | --- |
| an html link to the article | |
| BB-link to the article | |
| Direct link to the publication | |